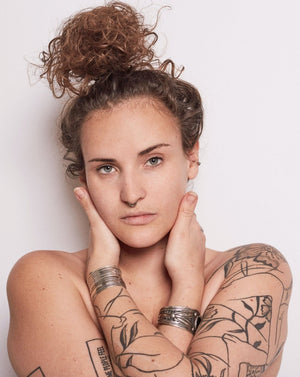 Early on in my life, my relationship with my body was linked to pain and then violence.

At only 14 and barely understanding my femininity yet, I had three surgeries done to my ovaries. It was brutal and the first time I wished to dissociate from my body. I, soon after, discovered I had the Ehlers Danlos syndrome, which explained all the pain my body had been suffering. My relationship with my body became a struggle, and I felt like I had to fight against it to achieve my dreams. I was told I would not be able to live the life I wanted to; I would have to reconsider moving to Paris for art school and then to London. I had to prove to myself my body wasn't weak, and I fought the pain, again and again, to make my dreams come true.

I had become more resilient to the physical pain when this faint relationship with my body was shaken again when I was raped. My femininity and sexuality became something I didn't really know how to experience after that, and I felt even more distant from my body.

The battle wasn't over; I was also diagnosed with endometriosis. I suddenly had to question whether I'd be able to have children, how my body being even more exhausted than usual from the medication would now affect my life... And I ended up having chemical menopause at 23 from all the treatments.

Amidst all this, I found myself in a controlling and sometimes abusive relationship. He cheated on me constantly justifying his actions by saying that "he couldn't do what he wanted to with me and having sex together was not fun with all my medical issues".

I arrived at a point where I realised I didn't even know how to communicate with my body anymore. I only felt hatred for it and felt it had either been controlled by a disease, by the pain or by a man. Enough was enough; I up and left the man I had been with for two years in the middle of the night and decided to start living my life only for myself and for my art. From now on, it was going to be me, myself and I from now on. I would be my only choice.

This body that was never under my own control and had been abused needed my love and care. I would not just fight my endometriosis; I would live with it. I changed my diet, I found solutions to live with my body and not against it. This body went through a lot and got me through so much; it was time for me to celebrate it. I needed to reappropriate it, to make it entirely mine.

I started getting tattooed a few years ago, but after this relationship and the need of getting my body back, I decided to get tattooed again. This time, my whole arm would be dedicated to women and the notion of Sisterhood. I have the word Sisterhood and women's bodies all around it with my mum's favourite flower. To me, this means that I embrace my femininity more than ever. My feminist fight is all over my body now. And this is also a way for me to celebrate all the women that got me through the pain. I will not shy away from who I am anymore, Sisterhood is my most precious word.