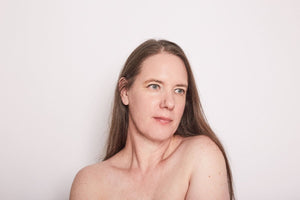 We are made up of many stories and identities. This is a snapshot of some of mine; it is filled with tears, anxiety, loss and trauma but is also a celebration of love and new beginnings. A circle.

My name is Lisa, I'm 48 years old, tea and cake obsessed, red lipstick wearing English teacher. Let me take you back to three years ago when I was living in Mexico teaching; enjoying the food, sunshine, language and energy there. I was delighted to find out I was pregnant and for a month never felt so secure and happy despite financial and romantic insecurity.

My happiness was soon shattered. Lying on a particularly tactless gynaecologist's clinic I could not afford I was told "yes, your pregnancy is not viable". After 12 traumatic hours in a Mexican public hospital, numerous tests and much wailing I decided to come back to the UK.

That journey across the sea precipitated my body to deal with this issue naturally. 48 hours later I was childless but with another less welcome passenger on board. A 15 cm cyst which would see me rushed to another private hospital in Mexico where it and my poor ovary it was huddled around were whipped out. I was told another 12 hours and the situation would have been critical.

I am reminded every day of this story. My body bears the scar; a 12cm vertical ladder winding its way down from my bellybutton. I refuse to hide it. It's now part of me and part of my story. Part of my survival of this ordeal was down to love; the love of my fantastic and supportive Mum and my stepdad's teasing, my best friend who nursed me back to health in Mexico but also the love of 3 special little girls, who would frequently visit for hugs, stories and sleepovers. My surrogate children.

Tragically two of them were ripped away from me. Not only me but our whole family. Together with their Mum; my gorgeous cousin, they were murdered. We struggle to make sense of it and always will but we have to continue putting one step in front of the other and look for the good that exists. They deserve that.

There are times when my mental health is robust and I feel able to meet any challenge. Then other times it's fragile; why did I survive but my beautiful cousin and her lovely girls didn't? But don't we all have stories like this? How do I continue? For me, it's the love that exists and gets stronger with the gorgeous girl that remains and her new baby brother, with my parents, close friends and with my amazing partner; 2 years in and he never ceases to amaze me with his unfailing love, acceptance, consideration and support. We also have our own furbaby together – Bertie, our 15 month old labradoodle pup.
I feel extremely lucky. I'm alive.
====
The Kelly Fitzgibbons Foundation
The Kelly Fitzgibbons Foundation was set up after the traumatic death of Kelly Fitzgibbons and her two daughters Ava and Lexi by her broken-hearted twin sister, cousin and two close friends. It aims to campaign against existing gun licencing laws and provide support to other victims of familicide.
To find out more about the foundation, please head to:
Website - Kelly Fitzgibbons Foundation
Instagram - @thekellyfitzgibbonsfoundation
Facebook - The Kelly Fitzgibbons Foundation Page