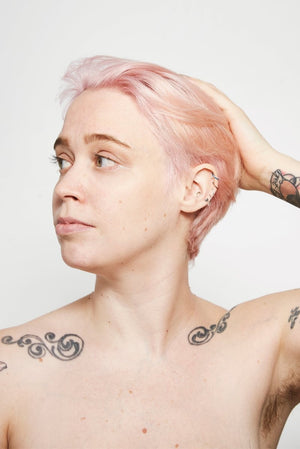 Growing up, I became the defacto' man of the house.' In terms of traditional gender roles, the masculine ones, like fixing things around the house or taking out the rubbish, for example, were always my job. I didn't mind it. In fact, I enjoyed it. I'd watched my family suffer at the hands of a physically and emotionally abusive stepfather figure for years. He leveraged his masculinity to convince us we needed him for far too long. I was happy when he was no longer a part of our lives, and I was proud to fill in these masculine roles, so we didn't need to bring in another man, one who had the potential to hurt us. I really leaned into and embraced my tomboyishness, which led me to a lot of male-dominated fields that warped my perception of women from a young age.

My first dose of misogynistic aggression came when I started playing ice hockey. I was often the only girl on the team, and everyone from the players to the coaches to the parents made it clear that I wasn't wanted there. I was smaller, weaker, and not as fast. A liability to them. Most of them warmed up to me eventually, especially when my skills improved, but there was always the underlying understanding that they'd prefer that I wasn't there, no matter how good I got at the game.

After ten years of that, I chose to attend a military university with just 20% female enrollment. The specialised university had only opened its doors to women eight years before I arrived, a fact that was still fresh on people's minds. Some of the other cadets, alumni, even professors would make it known they didn't agree with the change. Best case scenario, these people simply didn't acknowledge my existence. Worst case scenario, they actively worked to make my life harder in an already hostile environment. I was an intruder in their sacred boy's club.

Throughout all of the years of fighting for my place in these male dominated spaces, I also had the misfortune of hearing how men speak about women when they weren't around. Men tossed around violent jokes about assaulting women or covering for their buddies. If a woman protested to this 'banter', well, she evidently couldn't take a joke and shouldn't be here in the first place. Most women were sluts, whores, bitches. Some of them were attention seekers, teases, high maintenance. Almost all of them were weak, slow, stupid.

I didn't want my peers to perceive me that way, obviously. I wanted them to accept me as an equal, and I needed not to be their prey. I had to build my defences so I wouldn't be dismissed out of hand or targeted. I had to be non-threatening, so I wasn't labelled a bitch. But I couldn't be too friendly; that was a surefire way to gain a reputation as a slut. We were in high-stress, physically competitive situations. I had to beat all the women and as many men as possible so they couldn't call me weak. I had to protect myself from their rejection and, in turn, protect myself from them.

I rejected any femininity, equating it with weakness and vanity like my male peers had been doing my whole life. I judged other girls or women for wearing makeup or putting effort into doing their hair, especially in a male-dominated environment. Didn't they know we couldn't do any of that if we wanted the men to take us seriously? They were turning themselves into huge targets, and I had spent my whole life trying to shrink myself into the smallest mark possible.

It took me a long time to come to terms with my internalised misogyny. There was no one defining moment; it was a slow process. Once I realised how much of it came from an overwhelming need to protect myself, it was a lot easier to process. I learned to stop competing with everyone around me; I didn't have to constantly prove that I was better, stronger, less girly. I started dipping my toe into the waters of womanhood I'd rejected my whole life. I learned how to do makeup, I started painting my nails, wearing pink.

The fight isn't over for me now, even if I do present myself as more feminine than before. I still catch myself judging other women and myself for silly things, nothing really, just being women. I still talk myself out of wearing makeup or doing my hair in case it seems like I'm trying too hard, even if it's situationally appropriate to do so. But I've made a lot of progress, and I'm proud of myself for no longer hiding in my masculine energy. I finally feel safe enough to embrace my feminine energy.