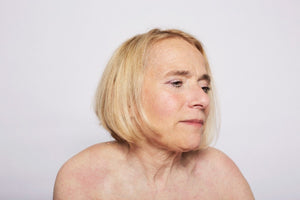 I refuse to become invisible and disappear because I am now older, and my disability has gotten worse.

Being a wheelchair user for so long has changed the shape of my body, and it's no longer comfortable for me to wear my usual underwired bras. I haven't been able to find a bra that can fit me and is comfortable. I know it seems like a small thing, but I really, really want to look good. And I don't feel I look good not wearing a bra. I just don't. That's me. And when I say look 'good', I don't mean in a magazine stereotypical 'good' type of way. Not in a perfect body way. Because I certainly don't have and never have had a perfect body, even when I wasn't disabled. But I loved my body, and I still love it. And I want to show it off to the best of my and my body's ability.

Now I feel really sad and a bit despondent about how to do that.
Last time I felt this sad and despondent, I was questioning if I could even be attractive anymore as a person. Let alone as a woman, with how my body and my disability was. That was 13 years ago. I decided then that I couldn't change my physicality, but I could change how I responded to it; so I did three things...

I jumped out of an aeroplane from 10,000 feet (I was a wheelchair user by then) to raise money for charity. Not because I'm such an altruistic person but because I wanted to shake myself out of my despondency and at the same time do something good for organisations that had helped me.

Then I had my photograph taken nude, sitting on my wheelchair.

Finally, I co-created a burlesque cabaret with two other friends who are disabled, and we performed it in a theatre in East London. I took my top off, even though I wasn't sure that I would be able to do it in front of an audience. It was fantastically liberating and a brilliant experience.

All these experiences proved that my body is still relevant, it still has a lot to offer, it still holds purpose and it still has desires. But society doesn't always see it that way...

A while ago, I was asked to speak at a three-day conference in the country on the subject of disability and sex. I went with my husband. The conference was held at a hotel where we booked a double room. Ironically, we found out as we arrived that the room only had twin beds, which were bolted to the wall. The beds couldn't be moved together. So we asked to change rooms and were told that the other disabled room was exactly the same. This was a newly refurbished, luxury hotel!

When I asked "so none of the twin-bedded rooms in this hotel have beds that can be pushed together?" I was told "oh yes, all the other rooms in the hotel have beds that can be pushed and zipped together". So it was only the disabled rooms where the twin beds couldn't be made into a double bed. What an incredible structural and visual representation of what people's attitudes are towards disabled people and sex. I was there for three days, and with nowhere else nearby to stay, I was left with a real life example of "if you don't think someone can do something, you won't provide the facilities for them to do it". That experience proved it in a spectacularly visceral way.

I suppose there's a part of me that wants to rail in quite an in-your-face way against being invisible and considered 'other' and not being considered a covetable sexual being, and also have some fun with all of that.

But now, I'm stuck about what to do about feeling that I don't look as good, or feel good, not wearing a bra. I know it's about how I behold myself, and what other people or society think about me shouldn't matter, but I'm finding that hard to remember at times.

I'm older now, and my disability is such that I can't do those empowering things I did 13 years ago; but I refuse to disappear. I refuse to give up, and now not having worn a bra for over eight months is really getting to me. And even though I haven't been out that much because of the pandemic, I am not happy with how I look. I want to look better. I don't want to feel like this. Looking good on the outside helps me feel better on the inside.

Maybe people will say 'do more mindfulness and meditation'; well yes, they are great, but I need this challenging-myself and being-seen photoshoot. And I need a good bra! I need a good bra, trivial though it may sound, it isn't to me. And I know a bra isn't the whole answer, but it's part of the answer for me me me me. One step upwards, literally. And I don't want to fall into that pit again. There are too many days when I feel I am right on the edge of that, if not actually 1 foot in it. So I'm looking to do some fabulous things that can catapult me out of there.

So here I am. And if I've learnt anything in my 30-year journey with MS, one of the things is that I need other people in my life. I need to put my head above the parapet. I'm curious. I want to look good. I want to be sexy.