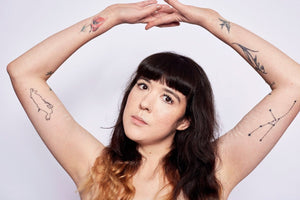 I used to hate seeing the scars on my body. And I hated them even more because I inflicted them myself. For many years I poured all of my pain and my insecurities and my frustration into what are now faint white marks, cutting myself open when things felt too painful, or simply too much.

I feel differently now. And it has taken me a long time (many years of therapy have helped). I don't want to be uncomfortable or ashamed anymore. I try to tell myself that I deserve to feel sexy, and I deserve to wear a short-sleeved top in the summer, and I deserve to exist in a space without people staring or asking pointed questions.

I'm so proud of myself that I reached a point where I don't blame myself for my scars, or feel embarrassed for them. I trained as a volunteer to help other women and women-identifying/non-binary people to get support for their self-harm, and that's when I knew how far I'd come. I hope that I can show others that you can look like me and still feel beautiful.