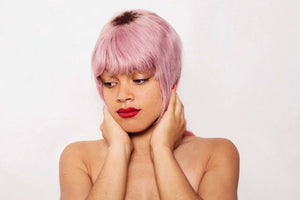 I was promised this, I was promised that, I was promised the world… But when words never come into action, you know it is actually just a silent lie.

7 years into our relationship, what should have been a gift from God came as bitter news to me. The broken promises and the continual betrayal I lived with made the thought of bringing a little soul on earth unbearable. I had to take the hardest decision I ever had, and I decided life shouldn't start off this way.

I picked up the phone and I booked an appointment under an anonymous name. I took myself to the hospital alone. I walked down a long corridor which end would also be met by the ending of this blooming life.

Fast forward a few months and my new boyfriend proposes slipping my engagement ring in my glass and dropping to one knee in front of our loving friends and family. We have my dad's blessing, everyone cheers us on. I live what could feel like a fairy tale. But real life catches up with me, and mistakes repeat themselves. Months on and I navigate through what turned into another emotionally abusive relationship filled with lies. I am being tested again, and I once again end up in that same long hospital corridor.

Failed relationships led me to take serious decisions which aren't always widely accepted. But would these two beautiful souls have deserved to grow up suffering through my anger, my pain or the disrespect and emotional instability of their respective fathers? How could I look at myself and at my children if I had made the decision, all-knowing, to give them less than they deserved?  

I hit rock bottom. I performed self-hatred daily, in both the degrading language I would use to describe myself and the way I treated my body; starving it one minute, stuffing it unhealthily the next.

It took courage to start falling in love with myself again but there is often a silver lining in the challenges life throws at you. I set myself on a path to take ownership of my life. And in a world where everyone has an opinion, I chose not to conform to what was more acceptable. I decided not to let anyone get in the way of my choice and to build the best life I can for myself and the family I still desire to build when I am ready. Judgement and blame are what you get in such situations, but who else except me will be handling the responsibility of bringing up the children I give birth to?

These dark and difficult situations helped me make a shift for the better in my personal life, I took time to reflect on what I stand for and what I seek. And I finally started to treat myself with love and respect. I am stronger both mentally and physically but I am still on a journey to fully love myself.

Today, they would have been a little over a year apart from each other. Two Kings or Queens with two unreliable men as fathers raised by a single mum battling with emotional trauma. I couldn't have them born with all that baggage.

It shouldn't have taken these situations but they have given me the courage to lead my life unapologetically, with more purpose, self-love and to work on myself to always be a better daughter, sister, aunty, leader, wife and mother, one day.